Options for the future of Dyfi bridge revealed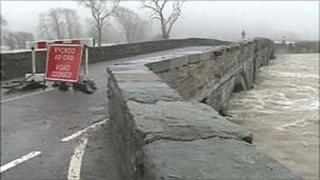 Four options for the future of a 200-year-old flood-hit bridge between Powys and Gwynedd have been unveiled by the Welsh government.
Campaigners in Machynlleth have long complained that residents face a 20-mile detour when Dyfi bridge is closed by floods or damaged by vehicles.
The options include raising the road or a new bridge either up or down stream of the existing crossing.
Machynlleth mayor Gareth Jones said he favoured a new bridge upstream.
The Grade II-listed Dyfi crossing on the A487 has been repeatedly damaged over the years.
Part of a side wall was knocked down by a lorry in 2010, forcing the bridge to be closed to trucks for several weeks.
It has also been shut on many occasions during periods of heavy rain.
Environmental impact
Machynlleth mayor Mr Jones and his town council colleagues say they want a crossing capable of handling 21st Century traffic.
The Welsh government has said it is considering options for the Dyfi bridge, including a new crossing and widening the existing bridge, but it has now revealed more detail.
The four options are:
A new crossing upstream of Dyfi bridge
A new crossing downstream of Dyfi bridge
Widening and strengthening the existing bridge, flood mitigation and raising the existing A487
Widening and strengthening the existing bridge and flood mitigation.
A Welsh government spokeswoman said: "The four options are being further considered and a decision on taking forward detailed investigative work into costings and environmental impact assessments will be taken later this year."
More information
Mayor Mr Jones welcomed the news of the plans but called for more information and a firm timescale.
"But we need to know if and when we are going to progress. We have had this problem for decades and a solution is long overdue.
"I know Montgomeryshire AM Russell George has been pressing (Transport Minister) Carl Sargeant for more information."
Mr Jones said he had asked the chair of the Dyfi Valley Steering Group to call a meeting to discuss the Welsh government's options.
It is a committee made up of councillors, businesses and the emergency services which was founded to address concerns over the bridge.
A year ago campaigners calling for a replacement bridge over the Dyfi complained after it was omitted from Wales' transport plan for 2012 to 2015.
In 2011, the South Meirionnydd Older People's Forum collected more than 3,200 signatures for a petition about the controversial crossing which was handed to AMs.