Centre for Alternative Technology winds up trading arm CAT plc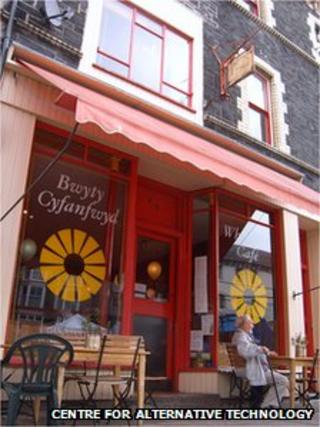 An eco-centre in Powys has blamed the economic downturn for a decision to wind up its trading arm.
The Centre for Alternative Technology charity near Machynlleth said it was taking on a number of ventures run by CAT plc, including a cliff railway.
Last month CAT plc shut a cafe and vegetarian food store in Machynlleth with the loss of 11 jobs.
A spokesperson said there would be no further job losses and CAT plc posts would be absorbed by the charity.
CAT said poor summer weather had also had an affect on its business, along with increased competition from organisations offering environmental courses.
'Great sadness'
But the economic slump had caused the most impact and had forced the directors of CAT plc to hand over control of a shop, restaurant, a cliff railway, short courses and consultancy to the charity.
"After a difficult financial period for the organisation and a number of difficult decisions we are pleased to announce that CAT charity will be able to take on all of the on-site activities previously undertaken by CAT plc," said a CAT charity spokesperson.
"The charity is now in a position to move forward and is committed to delivering its charitable mission to inspire, inform and enable practical solutions for sustainable living.
"However it is with great sadness that the decision has been taken to close the Quarry Shop and Quarry Cafe.
"Directors of CAT plc would like to thank all the staff from the Quarry Shop and Quarry Cafe for their contribution to the organisation and wish them the very best for the future."
The eco-centre at Pantperthog opened in 1973 and the cafe and shop in nearby Machynlleth began trading in 1979.
The centre attracts about 50,000 visitors a year and employs about 120 full and part-time staff.
In June 2010, it opened its Wales Institute for Sustainable Education building, which includes a 200-seat circular lecture theatre.
Students can study courses about wind power, solar water heating and organic gardening there.