Forestry Commission fined £24,000 for Powys pollution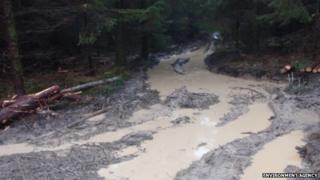 The Forestry Commission Wales has apologised after it was fined £24,000 in court for polluting a 20-mile (33km) stretch of waterway in Powys.
The commission admitted causing pollution after soil and silt disturbed by heavy machinery strayed into a brook near Llanwrtyd Wells.
The Environment Agency, which prosecuted, said the rivers Cledan, Irfon and Wye were polluted too.
The commission said it had tightened its procedures following the incident.
The agency said Nant y Bryn brook in the Crychan forest was polluted during a "tree thinning operation" and contractors working for the commission were responsible.
"This resulted in a 33km stretch of the brook, the River Cledan, the River Irfon and the Wye being polluted with silt, impacting on water quality," said an agency spokesperson.
"We have taken enforcement action against Forestry Commission Wales for failing to make sure that preventative measures were in place to protect the river."
The commission said it had admitted the pollution offence at Welshpool Magistrates' Court on Tuesday. It also had to pay costs of £11,729 and a £15 victim surcharge.
Its head of estate management Peter Garson said: "We apologise unreservedly for this incident.
"We're proud of our record of managing forests to the highest environmental standards and, indeed, worked with the EA to develop the forest and water guidelines which define how woodland managers will protect water quality.
'High rainfall'
"We are therefore extremely disappointed that we fell short of these standards on this occasion but we have taken action to prevent this happening again."
Mr Garson said the commission carried out hundreds of forest operations and harvested about 700,000 tonnes of timber every year, but this was the first pollution incident resulting from harvesting operations for more than 10 years.
"The controls we had put in place were inadequate due to the unusually high rainfall, which resulted in surface water flowing onto a track that was being used by heavy machinery to extract timber from the forest," added Mr Garson.
"While we are relieved that there were no reports of dead fish as a result of this incident, we acknowledge that silt is harmful to fish and wildlife in rivers and impairs the enjoyment of anglers."