Bronglais Hospital: Bed numbers to drop temporarily in revamp scheme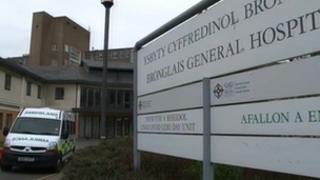 Bed numbers are being temporarily reduced at a mid Wales hospital as part of a £38m refurbishment scheme.
The 15-bed Rheidol ward at Bronglais Hospital in Aberystwyth is being replaced by a 10-bed clinical decision unit as part of a new A&E department.
The revamp also includes a new day surgery unit, two new operating theatres, a short-stay surgical ward and a maternity unit.
Health chiefs said bed numbers were expected to return normal next year.
Hywel Dda Health Board said the clinical decisions unit would have 10 beds for a year when the new A&E unit opened next Friday.
This will rise to 14 beds when the entire £38m development is complete in 2014, say officials.
But the board said its overall aim was to treat more people in the community.
Jeremy Brown, the health board's county director for Ceredigion, said: "This is a very exciting development for the people of Ceredigion and will help us deliver world class healthcare to them."
Hywel Dda said the new development, which had been unveiled in 2008, secured the future of Bronglais as a district general hospital.
A new car park has already opened at the hospital as part of the project.