Thieves target Foel traffic light batteries for third time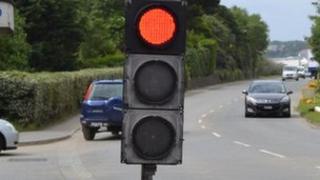 Batteries powering a set of temporary traffic lights in Powys have been stolen for the third time in a month, costing taxpayers more than £2,000.
The lights on the A458 near Foel, close to Llanfair Caereinion, were targeted on 18 and 23 February and on Monday.
Powys council said the lights had been damaged on each occasion with repairs and replacement batteries costing £2,200.
The authority said it suspected the batteries were being sold for scrap.
The cost to replace the batteries is £760 each.
Local residents and drivers are being urged to report anything suspicious to police.
Powys council said the Welsh government had asked for the lights to be put in place after problems with the road.
Barry Thomas, Powys cabinet member for highways, said: "The use of temporary traffic lights for any highway maintenance works are vital to ensure vehicles navigate that stretch of road in a safe and controlled manner.
"The culprits are endangering drivers by targeting these lights and I would urge anyone who has seen anything suspicions to report to the police immediately.
"These lights are required so the council will make arrangements to replace the batteries and repair any damage that has been done.
"These regrettable incidents will have to be paid for out of the public purse."
Last year councils were warned they were seen as soft targets by metal thieves as new figures revealed the cost to them.
Metal thefts cost councils in Wales at least £820,000 in 2011/12, according to figures obtained by BBC Wales.