New A&E unit opens at Bronglais Hospital in Aberystwyth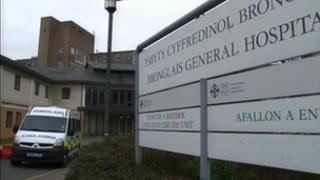 A new accident and emergency department has opened at Bronglais Hospital in Aberystwyth.
It is the first department to move to a new ground floor extension at the hospital as part of a programme of investments at the site by the Hwyel Dda Health Board.
It means both patients and ambulances will now access the A&E unit from Penglais Road in the town.
In total, £38m is being invested in front-of-house services at Bronglais.
Funded by the Welsh government, the schemes underway at the hospital will see several new units, in what the health board says is its biggest capital development.
It includes:
Purpose-built day surgery unit, incorporating two day case theatres
New short-stay surgical ward
New maternity unit, including relocating antenatal and paediatric clinics
Refurbish existing accommodation to relocate pathology services to establish an integrated blood sciences department to improve turnaround times
Refurbishment of the main theatre suite
Jeremy Brown, Hywel Dda's county director for Ceredigion, said: "This is a very exciting development for the people of Ceredigion and will help us deliver world class healthcare to them."