Aberystwyth: Mother-daughter first for town mayor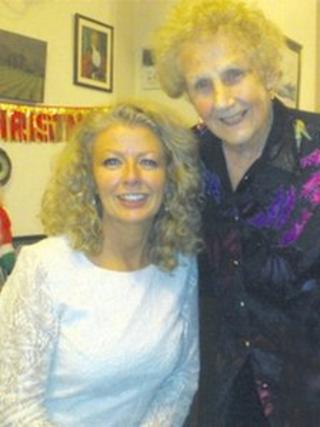 A woman whose mother was Aberystwyth's first female mayor is to follow in her footsteps when she takes up the ceremonial post.
Wendy Morris-Twiddy and her mother Mona Morris will be the first mother and daughter to hold the position of mayor in the Ceredigion town.
Mrs Morris was elected Aberystwyth's first female mayor in 1978 and held the role for a second time in 1990.
Her daughter says she will be delighted to become mayor in May.
Mrs Morris-Twiddy, who is a marketing manager at the local newspaper The Cambrian News, described her mother as "a great mentor to me".
"I'd like to thank my fellow councillors for supporting my nomination, and I look forward to serving the town as mayor to the best of my ability."
Aberystwyth town clerk Jim Griffiths said it was an historic moment.
"Mona was the first lady mayor of Aberystwyth and Wendy and Mona will be the first mother and daughter to hold the post," Mr Griffiths said.
"There have been at least two father and son pairings as mayor, but this is a first for the ladies."
It is the latest small piece of history to be made in the town council chamber during the last 12 months.
Last year newly-elected councillor Dylan Lewis was voted in as mayor at his first town council
It was thought to be the first time in Aberystwyth that a newly-elected councillor was made mayor at his first meeting.
Earlier in 2012, one of Wales' youngest mayors called time on his political career - at the age of 22.
Richard Boudier was finding it difficult to balance his full-time job with his ceremonial duties in Aberystwyth.
Mr Boudier became a town councillor in 2008 when he was a student in the town.