Over 300 trees to line Aberystwyth road in regeneration project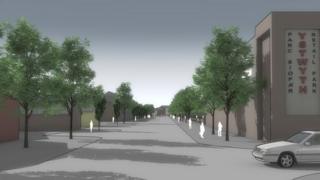 More than 300 trees are to line a road in Aberystwyth as part of a scheme to rejuvenate the town.
The Coed Aber project aims to improve Boulevard St Brieuc - one of the main thoroughfares - and will cost £375,000.
It is being financed by the Aberystwyth regeneration fund. Planting is starting soon and the work is expected to be completed in 2015.
It is a collaboration between the Forestry Commission, Ceredigion council and the Greener Aberystwyth Group.
Meg Kirby of the Greener Aberystwyth Group said: "Our group was set up to promote the development and conservation of green spaces in the Aberystwyth area.
"We see them as valuable amenities for the residents themselves and anyone visiting the area.
"The Greener Aberystwyth Group has long envisaged a tree-lined avenue to unify this important approach to Aberystwyth and is delighted that it is now becoming a reality."
Trefor Owen, director of Forestry Commission Wales, believes the benefits of the scheme are significant.
"Many consider the benefits of such developments as being simply environmental but they are much greater," he said.
'High quality'
"There are proven benefits for people to exercise and enjoy a safe, welcoming high quality local environment. From an economic perspective it can attract more visitors and tourists as well as promote investment by the business sector."
The Welsh government named Aberystwyth as a regeneration area in October 2009, and it was awarded £10.3m in March 2010.
Projects which have benefited from the fund include a new circular road linking Aberystwyth University and the National Library of Wales, along with a new bus service. This opened last year.
Meanwhile, a scheme improving access to the town's railway station and an area for buses received £1m from the fund in 2011.