Deal for 'free' Hay-on-Wye school dropped by Powys council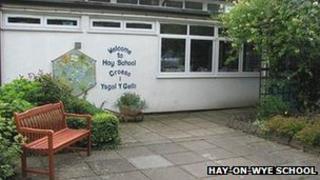 Plans by a developer to build a new primary school in Hay-on-Wye have been dropped by Powys council after it said the deal "soured".
Gaufron Developments had planned to demolish the existing school, build a supermarket on the site and construct a replacement for 240 pupils.
But the supermarket now appears in jeopardy as the council plans to build a new school on the existing site.
Gaufron Developments said it was disappointed with the decision.
A report before Powys council's cabinet on Tuesday said Gaufron had changed the deal because of the economic slump, and it had asked the authority to pay £2.25m towards the new school after initially saying it would build it free of charge.
The cabinet has agreed to look at other ways of funding a new school which could cost £8m.
The authority announced in August 2011 that Gaufron had offered to build a 240-pupil building.
Gaufron wanted Powys to transfer the ownership of the existing school site and it would build a replacement on land owned by the Hay and District Sports and Community Association.
The developer then planned to build a supermarket on the site of the old school. The development also included a 70-bed care home and indoor sporting facilities.
But the cabinet report said: "It subsequently transpired that due to changes in the economy in terms of land and property values, and the impact of market factors on retail developments, the developer needed to revisit the terms of the original proposal.
"It then became clear that the original principle of the developer building a new school in exchange for the existing school site was no longer economically viable for the developer."
Action group
The report added: "The original proposal from the developer was that a new school would be built at no cost to the council in exchange for the existing school site."
The report said Gaufron submitted revised plans with the council last autumn and asked it to contribute up to £3m towards the scheme, but had since capped that to £2.25m.
Gaufron Developments said it planned to relocate a Co-operative store to the school site.
"We are extremely disappointed with the council's decision as we felt that the relocation of the existing Co-operative store onto the town centre site would have brought huge financial benefits to both the council and the county's tax payers," said a spokesman.
An action group was formed in Hay two years ago in opposition to the new supermarket.
The chamber of trade said at the time the town's "thriving" high street could be put at risk by the supermarket.