Monmouthshire and Brecon Canal stretch reopens after £1.2m work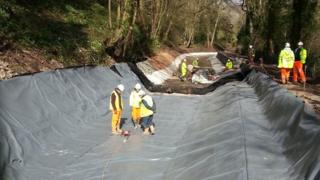 A 470-metre stretch of canal in Powys has reopened after six months following a £1.2m maintenance project.
The work to reline the Monmouthshire and Brecon Canal at Llangattock is part of a £50m scheme by the Canal & River Trust throughout England and Wales.
Water has been released back into the affected section which had been emptied in September to allow the work to take place.
The 49-mile (79km) long waterway is expected to be navigable by Friday.
Jeff Cuthbert, deputy minister for skills and technology, visited the canal and officially reopened it on Tuesday.
Dr Mark Lang, chair of Glandwr Cymru, the Canal & River Trust in Wales, said: "The re-lining of this stretch of the beautiful Monmouthshire and Brecon Canal is part of the essential maintenance needed by the local canal network which is used by boaters, cyclists, anglers and walkers supporting local businesses.
"It is so exciting to be able to finally have it reopened for everyone to enjoy."
Vince Moran, the Canal & River Trust's operations director, said the trust spent around £50m every winter on lock gate repairs and replacements as well as embankment maintenance, essential works on reservoirs and many other activities.
"We care for over 25,000 different structures across England and Wales," he added.
"Our work requires a wide range of expertise including civil engineering, operational specialists, heritage and environmental experts, hydrologists and education and interpretation professionals."
Eddie Quinn, framework manager for the Canal & River Trust, said repairing and maintaining the waterways was a "painstaking task", and required traditional materials and methods to preserve "this vital part of our heritage".
"However, they've become more than just a historical monument," he added.
"They're now wildly recognised for being crucial for wildlife and are a well-loved leisure resource for millions of people every year."
The canal celebrated its 200th anniversary in 2012.