Newtown, Powys, hailed as tech-savvy in Google eTowns awards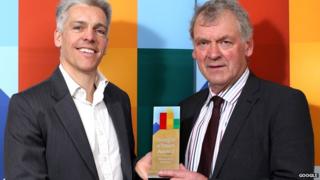 Businesses in a Powys town once regarded as a broadband "notspot" say they are surprised after it was named one of the most tech-savvy in the UK.
Web giant Google analysed the online strength of 1,300 towns across Britain, and those with the highest scores in each region were awarded eTown status.
Businesses in Newtown were named top in Wales of those most actively embracing the web.
Powys is to receive superfast broadband which is being rolled out in 2013/14.
The county was announced in January as one of 14 areas that would benefit from the "superfast" connection over the next couple of years.
Meanwhile, the European Commission confirmed in March it was investing £90m to bring superfast broadband to west Wales and the valleys.
The aim is to get better speeds to 96% of Welsh homes and businesses.
It follows criticism over the years about broadband "notspots" in rural areas like Powys.
A "notspot" centres on the distance residents are from their telephone exchange.
Graham Morgan, director of the Newtown-based Mid Wales Chamber of Commerce, said: "Businesses I've spoken to were somewhat surprised that Newtown had won this accolade.
"The Welsh government hope to have superfast broadband in place by 2013 or 2014 as Newtown's been identified as a priority area.
"The eTowns status is good news for those businesses looking to relocate to cheaper premises knowing that Newtown is actively embracing the web."
Newtown finished top in Wales in the Google eTowns award and 11th in Britain.
Dan Cobley, managing director at Google UK, said: "The internet is going to contribute massively towards our future economic growth, and many businesses rely on the web to grow.
"These eTown awards are designed to recognise and reward those areas leading the way forward in e-commerce, and Newtown should be extremely proud to be one of the UK's top e-commerce towns."
Montgomeryshire MP Glyn Davies said Newtown was proud of its Google eTown award.
"The internet is going to play a key role in Newtown's economic growth, helping local businesses and entrepreneurs thrive, and contributing overall to the wider British economy," he said.
'Chief barrier'
In 2007, regeneration group Mid Wales Partnership said black holes in rural Wales' broadband network were putting it in danger of falling behind the rest of the UK.
It called for "urgent planning and investment" to improve high speed internet connection.
In 2010 an interactive map from the media regulator Ofcom showed much of Wales had the worse broadband provision in the UK.
The Welsh government launched a scheme that year to help rural communities tackle broadband "notspots".
Its broadband improvement project offered up to £1,000 to buy an alternative if they only have a dial-up-speed connection.
In 2011, Ben Underwood, director of the Country Land and Business Association in Wales, said a lack of broadband was the "chief barrier" to companies seeking to set up in rural Wales.
But since then Mid Wales Chamber of Commerce said broadband access had improved.