Borth: Flood defence second phase work set to begin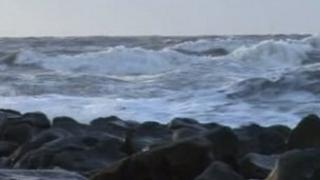 The second phase of flood defence works which will help protect homes and businesses in Ceredigion is to begin.
Funding of £960,000 will help pay for the work in Borth, which includes defence improvements being extended and a new slipway being created.
The latest work follows the first phase which saw £13m being spent on improving safety for 420 homes and businesses in the village. It was finished last year.
Minister for Natural Resources Alun Davies announced the new funding.
"We know that without intervention the core of Borth village could have been lost within 20 years as a result of coastal flooding and erosion," he said.
Mr Davies said the Welsh government had already invested £7.5m for flood protection in Borth, in addition to almost £5.5m from the European Regional Development Fund.
He added that the Welsh government was developing a national funding policy for flood risk management along with a method for prioritising investment so it could focus on the most at-risk communities.
In 2013/14 it is investing £47m in flood and coastal erosion risk management, which will pay for the maintenance and construction of major flood defence schemes in some of Wales' most vulnerable communities.
Alun Williams, the Ceredigion council cabinet member for transport, waste and carbon management, said the authority was grateful for phase two of the works.