Miranda Hart and Carl Bernstein join Hay Festival line-up in Powys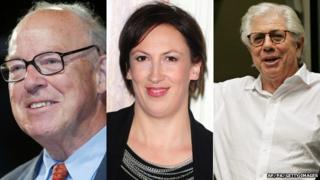 Comedy actress Miranda Hart is one of the celebrity stars lined up for this year's Hay Festival.
Hart will join the annual get-together of authors, politicians and celebrities at the festival in Powys, starting in May.
Spy novelist John le Carre and American journalist Carl Bernstein will also appear.
The event will mark the Iraq war's 10th anniversary and closer to home honour poet RS Thomas, born 100 years ago.
This year's literary event in Hay-on-Wye is the 26th to be staged in the border town, famous for its second hand book shops. It will run from 23 May to 2 June.
In the past it has attracted former US presidents Bill Clinton and Jimmy Carter, as well as the former vice-president Al Gore.
Weapons inspector
This year award-winning American journalist Carl Bernstein, who broke the Watergate scandal in the Washington Post in 1972, will reflect on the Barack Obama administration and the American anniversaries of Gettysburg (150th), the Vietnam war (40th) and President John F Kennedy's assassination (50th).
The 10th anniversary of the war in Iraq will be marked by a lecture from Swedish politician and diplomat Hans Blix.
The UN weapons inspector led the search for weapons of mass destruction in Iraq between 2000 and 2003 but none were discovered.
The festival's closing day will feature a talk from Nobel Peace Prize winner Jody Williams who gained the honour for her international campaign to ban landmines.
Former Beirut hostage John McCarthy will speak about his travels through Israel and Palestine and Paul Theroux on a journey alone through Africa.
The recently retired Archbishop of Canterbury Dr Rowan Williams, a familiar figure at the literary festival, will also participate.
Call the Midwife star Miranda Hart will talk about her work in comedy and drama, with fellow actors Robert Lindsay, Rupert Everett and Hugh Dennis also making festival appearances.
Booker Prize
John le Carre, the creator of George Smiley, will make his debut at the festival and appearing in a first for Hay - a double length interview.
Other authors include Sebastian Faulks, Lionel Shriver, Caitlin Moran, Irvine Welsh, Howard Jacobson, Thomas Keneally, William McIlvanney and Alexander McCall Smith.
The festival will also feature the first public interview with the winner of the 2013 Man Booker Prize, three days after the announcement.
There will also be events reflecting on the centenary of the birth of Welsh poet RS Thomas, along with the bicentenary of Jane Austen.
Music will include a UK premiere of a new opera by Philip Glass, imagining the final years of Walt Disney's life. Live performances include Christy Moore, Cerys Matthews, KT Tunstall, Manu Dibango and Hugh Cornwell.
There will also be stand-up comedy from Dara Ó Briain, Alan Davies, Phill Jupitus and Ed Byrne.