Farming family near Knighton snowed in for more than a week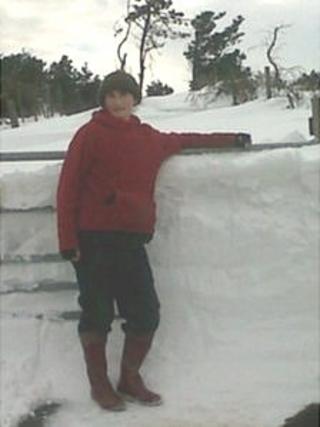 A family, snowed in on an isolated hill farm in Powys for more than a week, have spoken of how the kindness of local people has helped them.
Food has been sent in for the Potter family, who live above Knighton.
A pile of snow at the end of their track has meant they have been unable to leave the farm, even in a 4x4.
One of the family, Annette Potter, said she had missed an appointment at a cancer care unit due to the weather.
The farm's water supply was frozen until Sunday.
The unseasonable cold spell has caused severe problems in mid and north Wales with snow drifts closing roads for days, while sheep farmers who are lambing have asked the Welsh government for help.
Natural Resources and Food Minister Alun Davies says he has asked Wales' chief veterinary officer Professor Christianne Glossop to look at what can be done to ease the burden on farmers.
The Potter family have been stuck on their farm on Beacon Hill, near the village of Lloyney, since 21 March.
The family runs a small thoroughbred stud, and the farm is home to Dennis Potter, 80, wife Ann, 78, their daughter Annette, 52, and her daughter Charlotte, 18.
Speaking on BBC Radio Wales, Annette Potter said: "We didn't have much more snow than anybody else, but because of the elevation we get tremendous drifting because of the wind - we're 1,400ft up.
"The council has cleared the road to within three-quarters of a mile of us but there are eight to 10ft drifts at the side of the road.
"We are managing to get food ferried in by kind people who are bringing it to within reach of us and we're ferrying it in. We're not without supplies."
Ms Potter said food was coming in from Knighton nine miles (14km) away as Lloyney, four-and-a-half miles (7km) away, did not have a shop.
But the water has been frozen too and only defrosted on Easter Sunday.
Without baths
"We actually managed to get a pipe that comes from one of the fresh water pools to run, but not for the house water so we were struggling with drinking water for ourselves," Ms Potter added.
She said the family used buckets to flush toilets and went without baths and showers.
"We have run out of wood and coal, but we have got an oil fired Rayburn in the kitchen," she said.
"We are used to it (the snow). We're just not used to it quite at this time of the year."
Ms Potter said the family enjoyed the isolation but they had to prepare for bad weather.
"I've missed one hospital appointment which is quite urgent for me," she said.
"On Wednesday I'm not sure whether I'll get out again. I've got to go to the Macmillan Renton Cancer Care Unit at Hereford, so I do need to get off the farm."
She said Powys council planned to clear the remaining snow this week.