Wales air ambulance trials night rescues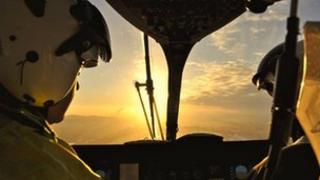 Night-time rescues are being trialled by Wales air ambulance over the next few months.
The night flights from the charity's airbase at Welshpool in Powys follows a relaxation of the law and is due to run until August.
Rescuers say it is giving them the chance to learn how to work over dark skies.
One man has already been flown to hospital in Staffordshire at night after suffering a heart attack.
The 59-year-old man from Welshpool is recovering after being transferred by the air ambulance after dark.
The air ambulance service said its Eurocopter EC 135 helicopter being used in the trial is the newest and most advanced air ambulance in the UK.
The helicopter can reach anywhere in Wales within 40 minutes, and is currently the service's second busiest vehicle.
Pilots and paramedics at the Welshpool base have been learning how to extend their work into the hours of darkness since the beginning of March.
Missions can currently land only at lit helipads but the next stage will see landings at unlit sites.
National Air Ambulance clinical and operations manager Jason Williams, who is also a paramedic, said the experience had been fantastic so far.
"We can now fly in the hours of darkness, and this means that we can now provide more of a service and are working towards a 24-hour service," he said.
During the trial air ambulance crews have been getting used to using night vision goggles which allows them to pick out places in the landscape which they normally couldn't in the pitch black skies over Wales, he said.
"We need to be 100% sure that we are safe to fly," said Mr Williams. "It can be a dangerous environment."
The charity said £250,000 has been invested in visibility equipment after a fundraising drive across Wales.
Weather radar for adverse conditions such as fog, and night vision goggles are among the equipment fitted.
At the moment only three hospitals in Wales can allow night time arrivals from the air ambulance - Ysbyty Gwynedd in Bangor, Ysbyty Glan Clwyd in Bodelwyddan and Morriston in Swansea.
Mr Williams said they are campaigning to get hospitals in south Wales, including the University Hospital of Wales in Cardiff, to also permit the helicopter to land at night.
It is also hoped pilots and paramedics will be licensed to land at unlit sites during the night before the end of the year.
The Welshpool air ambulance is working from 09:00 to 21:00 BST during the trial.
The air ambulance service, which costs £6m a year to run, has carried out more than 17,600 missions since its launch in 2001. As well as Welshpool, it has bases at Swansea and at Caernarfon, Gwynedd.
The teams carry out about 2,000 missions each year, with around 400 of these involving children aged 16 or under.
Roughly 30% of their calls are to road crashes.