Shimizu Industry UK: Welshpool firm could relocate to Shropshire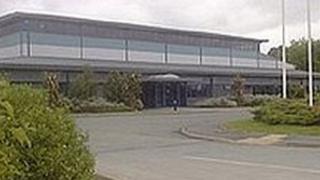 A car parts firm in Powys employing more than 150 people is consulting staff over plans to move to Shropshire.
It follows a review of Shimizu Industry UK (SI-UK) in Welshpool after a takeover by fellow Japanese corporation Denso.
SI-UK employs 159 in Welshpool, but it is unclear if they will be offered jobs at a factory in Telford, 35 miles (56km) away.
The company makes parts for firms like Jaguar, Honda, Toyota and Land Rover.
It produces plastic components and metal moulds for car air-conditioning systems.
Reorganisation
Denso said SI-UK employed 136 staff and 23 agency workers, and it explained in February it was reviewing the operation in the Powys town.
"We are consulting staff at Shimizu on a proposed relocation to Telford, Shropshire," said Denso spokesperson Sjoerd Dijkstra.
"Since the formalities of this acquisition have taken place, we will study the possible options and timelines for reorganisation of our manufacturing operations in the UK, which will include consideration of the long-term operations at the Welshpool site.
"No firm dates can be given at this time."
Denso operates in more than 30 countries and employs around 120,000 people.