Farmbox Foods: Horsemeat probe plant shut again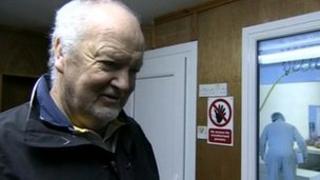 A mid Wales meat cutting plant shut down during the horsemeat scandal has been ordered to close again.
Work at Farmbox Meats Ltd, of Llandre, Aberystwyth, was suspended in February by the Food Standards Agency (FSA) as part of an investigation into alleged mislabelling of meat products.
Last month it was allowed to re-open operating under conditional approval.
The FSA now says approval has been withdrawn over hygiene standards, which the company is disputing.
Dafydd Raw-Rees, 64, the plant's owner, said he planned to appeal against the decision, and threatened to take legal action against the FSA.
"They have made a big mistake taking on Farmbox Meats," he said.
"We have been unfairly treated. There's a lot of companies still trading with lower (FSA) scores."
But a spokesman for the FSA said: "The FSA today informed Farmbox Meats Ltd of its decision to refuse the business approval to operate as a cutting plant and cold store facility.
"The business is entitled to appeal this decision, therefore the FSA cannot provide further details at this stage."
Production was originally stopped on 12 February following a raid by police and FSA officials investigating the discovery of horsemeat in processed beef products.
Mr Raw-Rees insisted at the time there had been no cross-contamination at the cutting plant and said he felt he had been "picked on".
He and two other men were arrested on suspicion of Fraud Act offences and remain on bail.