Ceredigion floods: Damage costs council £525,000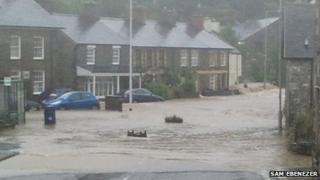 The bill for repairing damaged roads and bridges following severe flooding in parts of mid Wales last June cost Ceredigion council more than £500,000.
But the Welsh government provided the authority with nearly £140,000 to help with the expense.
Aberystwyth and the villages of Talybont, Dol-y-Bont, Penrhyncoch and Llandre were among the areas affected.
Many people who had to move to temporary accommodation after houses were damaged have been able to go home.
Households in the affected areas were evacuated after a month's worth of rain fell in 24 hours on 8 and 9 June last year.
Parts of north Ceredigion had 5ft (1.5m) of standing water, with caravan parks, properties and businesses all hit.
"The total costs to the authority associated with the June flooding was approximately £525,000," said a Ceredigion council spokesman.
"However the authority has had financial assistance via the Welsh government of just over £139,000 which means that the net cost to the authority was approximately £386,000."
Some of the money was also spent on cleaning up after the floods.
He said council officers were due to revisit flood-hit properties this week to "confirm which householders remain out of their homes".
"Although all Talybont residents are back in their homes a few are still to return to their homes in Llanbadarn and Dol-y-bont," added the spokesman.
"A further update will be available by the end of this week which will confirm the latest position."
Mick Fothergill, whose house in Talybont was damaged, said he and his wife moved back into their home a few weeks ago.
"The house has been renovated but there still a bit of work to do," he added.
"Everybody in the village is back (in their homes) now. The last couple were our neighbours a few days ago."
An appeal to help those affected by the flooding has raised nearly £128,000.
Nearly 130 households received a share of around £107,000, with the council saying nearly £21,000 had yet to be distributed.
Prince Charles made a donation to the fund and he and the Duchess of Cornwall met some of the flood victims and the emergency services in Aberystwyth on 9 July last year.