Lakeside Restaurant in Llandrindod Wells to reopen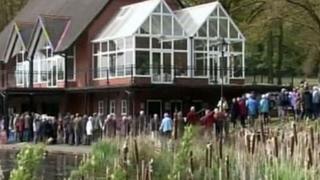 A new operator has been appointed to run a Powys restaurant following a demonstration last year over its future.
Its owner, Powys council, said plans were to reopen the Lakeside Restaurant in Llandrindod Wells on 27 June.
The new operator is set to run it on a five-year business lease.
More than 100 people held a linked-hands protest around the building in May last year over fears about it might shut.
The Lakeside Restaurant is considered a vital tourist attraction by people in the town.
The council has previously tried to sell it without success and campaigners feared last year that when it closed for refurbishment it would not reopen.
But Powys council has said people's concerns were unfounded and it was committed to keeping it open.
The authority's cabinet member for property and assets Garry Banks said: "We received more than 30 expressions of interests for the business, followed by four formal submissions which were shortlisted to three applicants.
"The three applicants were invited to make submissions to the council and a successful candidate was appointed after a thorough evaluation process involving officers experienced in catering, regeneration, and private sector finance.
"The successful bidder has innovative ideas, particularly regarding engaging with the local community, and has a successful business background with a highly experienced team behind him which includes catering experience."