Hope Church, Newtown: £3m plans to double capacity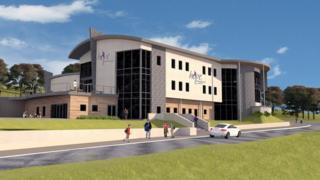 A church is set to double its capacity after £3m plans for a new place of worship were unveiled in Powys.
Officials at Hope Church in Newtown want to demolish their current building and rebuild on the site, creating room for 600 parishioners.
It is struggling to cope with demand for its range of clubs and groups and needs more room for the congregation.
The new three-storey church will also contain a restaurant, a children's play gym and more conference rooms.
The plans will be submitted to Powys council later this month.
The Reverend Alan Hewitt, senior minister at Hope Church, said: "As a church we are serving our local community in many ways from luncheon clubs and youth clubs to parenting groups and a day nursery.
"But our current building is struggling to cope with demand and we are forced to place people wanting to use our services on long waiting lists.
"We believe Newtown is a fantastic community that deserves the best resources. We want to vastly improve the facilities we have on offer so that we can be of even greater service to the town".
The church said it had already raised a third of the money needed to fund the project and building work could start early next year.
A spokesperson said the church needed to expand because it was "bursting at the seams" and regularly attracted 300 worshippers every Sunday.