Dolphin links between Liverpool and Cardigan Bays are made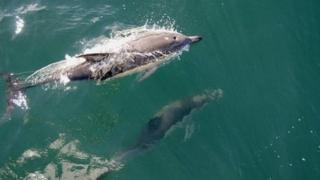 Scientists say they have managed to match sightings of dolphins to individual animals seen in both Cardigan and Liverpool Bays for the first time.
Researchers from the Sea Watch Foundation say fin markings on the dolphins have given them the first positive matches linking the two areas.
They discovered one of the dolphins had been known to them since 1993.
It is hoped the study can help develop conservation policies in the areas.
"We have had occasional sighting records of bottlenose dolphins in Liverpool Bay but have never before had the pictures which could help us individually identify them," said Sea Watch director Peter Evans.
"This was the first time we had been able to survey Liverpool Bay from a boat and it has proved a landmark moment, helping us to better understand the areas of coastline used by bottlenose dolphins."
One of the dolphins they managed to identify was first captured on camera in the Cardigan Bay Special Area of Conservation in 1993.
The latest survey showed the same animal had been spotted off the coast of Anglesey and as far afield as the Isle of Man.
"There is still a lot to discover - some for instance may prove to be more or less permanent emigrants from Cardigan Bay," added Mr Evans.
"This knowledge of the areas used by bottlenose dolphins is crucial in helping to develop effective conservation policies."