Welsh sheep farmers look to Far East markets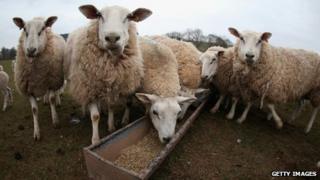 Welsh farmers are looking to take advantage of new markets on the other side of world - traditionally served by rivals in New Zealand.
Welsh lamb and beef promoters Hybu Cig Cymru (HCC) want to expand into new areas in the Far East.
New Zealander Bill Joyce, who promoted his own country's lamb for 30 years, has switched sides to help HCC achieve its goal.
Welsh lamb exports were worth £218m to the Welsh economy last year.
It is already sold around Europe, Canada, the Middle East, Hong Kong and Singapore.
To take advantage of emerging markets in Russia and the Far East, HCC said the most efficient way of transporting the lamb was by sea but that meant extending its shelf life.
The Welsh government has awarded a £1.2m grant over three years to help with the shelf life project, which HCC announced at the Royal Welsh Show on Monday.
Mr Joyce is working as a consultant for HCC after spending 30 years promoting New Zealand lamb, the world's largest supplier of the meat.
"What I'm trying to do is explain what needs to be done to extend the shelf life of Welsh lamb," said Mr Joyce said.
"That's so they can take advantage of distant markets, reduce waste and possibly extend the season for fresh Welsh lamb.
"At the present time the shelf life of Welsh lamb is about 14 to 21 days and a reasonable goal would be to try to push this out to about 60 days."
Mr Joyce said this could be achieved by reducing the amount of bacteria on the skin of sheep before slaughter.
"To do that you really need all parts of the chain to come together," he said.
"There's a big responsibility on farmers, making sure the animals are going to be cleaner when they arrive at the works (abattoirs).
"Unless the animals are reasonably clean when they come into the plant no amount of hygienic processing will overcome those high bacterial counts, mainly on the skin of the animal when it comes in."
Mr Joyce said by targeting the Far East, Welsh lamb would go head-to-head with New Zealand lamb.
"Welsh lamb is already in the Middle East, Hong Kong, Singapore," he added.
'Efficient way'
But he said Welsh lamb was currently being exported by air, while New Zealand lamb was sending its meat by sea.
"There's a cost differential. Very roughly it is about £1 a kilo - between air freight and sea freight," said Mr Joyce.
"If we send Welsh lamb by sea freight there's immediately going to be a value gain."
HCC chairman Dai Davies said as export volumes rose so too did the question of transportation.
"The most efficient way to transport large amounts of Welsh lamb is by ship, which means that extended shelf life plays a vital role for long haul destinations," he added.
With greater prosperity among consumers in emerging markets such as Russia and the Far East, the demand for premium quality products was "springing up all over the world", he said.