National Grid pylons 'could spoil views' in Llanymynech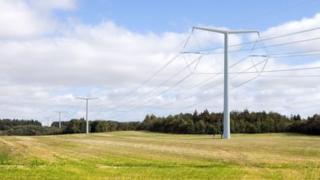 Villagers are concerned a planned pylon route linking wind farms to the national power supply could spoil the view from a local hill.
Drop-in sessions are being staged by National Grid over the 25-mile (40km) route in Powys and Shropshire until 8 November.
In Llanymynech, near Welshpool, people said they feared the pylons could ruin the views across the two counties.
National Grid said it was "one of the main things" concerning people.
A spokeswoman said National Grid "fully understands" people's concerns in Llanymynech, adding: "That's why we're holding these events, to hear people's opinions."
The pylon route would start from an electricity sub-station in Cefn Coch, near Llanfair Caereinion, and finish at the national transmission network near Oswestry in Shropshire.
In addition to the pylons, National Grid has said eight miles (nearly 13km) of cables will be buried underground in the Meifod valley.
The first of 26 drop-in sessions in Powys and Shropshire started on 7 October.
Revealing its pylon plans in September, National Grid said a new "T-pylon" - which is about 15m (nearly 50ft) shorter than conventional pylons - could be used along the power cable route which would be 33 miles (53km) long.
It said it had developed a draft route to keep away from villages and would use "hills and trees as a natural backdrop to help keep any visual impact to a minimum".
The remaining drop-in sessions start next week at West Felton Village Hall, near Oswestry, and at Meifod Village Hall, near Welshpool.