Shop locally at Crickhowell to 'boost economy by £1.4m'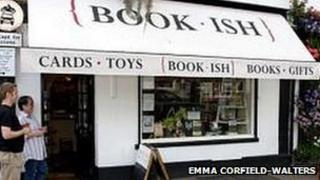 Businesses have joined forces to promote a Powys town as a place to shop, hoping to give the local economy a potential boost of £1.4m a year.
The Totally Locally scheme in Crickhowell urges local people to spend at least £5 in local shops each week.
Organisers say as well as boosting the economy it is a way to bring the community together.
A similar scheme already operates in Prestatyn, Denbighshire, with others in the pipeline across Wales.
Bookshop owner Emma Corfield-Walters, organiser of the campaign in Crickhowell, said the idea of a "shop local" scheme originally began in Yorkshire as a way to boost struggling high streets, but it had since spread.
"We're all finding it difficult, it's not an easy time at the moment but we are sticking together," she told BBC Radio Wales.
"Crickhowell is quite an unusual town in that we have a lot of independent shops.
"We only have two non-independent retails and a lot of shops here are family-run."
Ms Corfield-Walters said the town was "lucky" because of its historical and beautiful setting as it attracted visitors, including many walkers to the Brecon Beacons National Park.
"We don't have empty shops on the high street at the moment and this campaign is to make sure that doesn't happen," she added.
The idea is to urge everyone in the town to spend at least £5 each week in local shops and businesses over the next two weeks.
"It's worth £1.4m to our local economy every year, but it'll also get people to rediscover the shops here," Ms Corfield-Walters said.
"I think really any town could do with this kind of boost, and brings the community together," she added.