Thomas & Betts Newtown job fears lead to Welsh assembly questions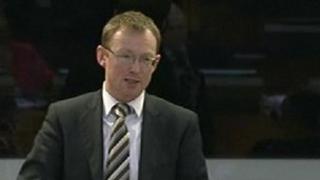 Fears of job losses at an electrical firm in Newtown, Powys, have led to questions in the Senedd from an assembly member.
Montgomeryshire AM Russell George voiced concerns about Thomas & Betts (T&B) with Economic Development Minister Edwina Hart.
Mr George said the Welsh government had contacted the firm and Mrs Hart would provide him with an update soon.
T&B said it would speak to staff before releasing any details.
Mr George said he questioned Mrs Hart following an announcement last week by T&B.
"I do welcome the minister's response and the proactive action that she and her officials have taken to get to the bottom of the company's problems," said the Conservative AM.
"I have already written to the company offering my support and have requested a meeting along with local MP, Glyn Davies, to see what we can practically do to prevent this closure."
He said he hoped the minister would find a solution to ensure the company had a viable and long-term future in the town.
A T&B spokeswoman said: "T&B hold regular communication meetings with their staff on different aspects of the business.
"It is also a policy of T&B to always communicate with its employees in the first instance and anything that needs to be shared with a wider audience will be done so as and when appropriate."
In 2012, T&B was acquired by ABB, a leader in power and automation technologies.
According to the T&B website, the ABB Group of companies operates in around 100 countries and employs about 145,000 people.