Casey Breese: Caersws Football Club in court on safety charges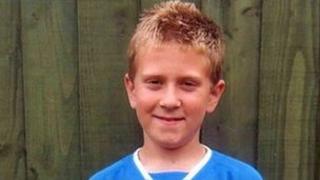 Nine football club officials accused of health and safety breaches have appeared in court after a goalpost fell killing a 12-year-old boy.
Casey Breese was playing with friends when the incident happened in July 2011.
Caersws FC, based near Newtown in Powys, is being prosecuted under the Health and Safety at Work Act 1974.
The hearing at Mold Crown Court was adjourned until 9 January without a plea being entered.
Casey was playing with friends on a recreation ground in Caersws when he was struck by the post.
Judge Niclas Parry agreed to adjourn the case - brought by Powys council - to January on the understanding that a full plea and case management hearing would be held at that stage.