Closure threatened Llandysul pool given cash from local people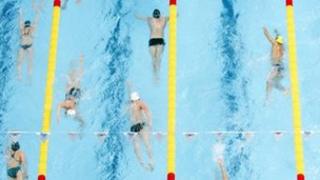 A swimming pool threatened with closure has been thrown a cash lifeline by local people who have pledged to pay £10 a month to keep it open.
Earlier in December, trustees of Llandysul Aqua Centre said it would have to close by the end of the month.
It followed the announcement that Ceredigion council was withdrawing its annual £33,000 grant.
At a meeting on Tuesday night, more than 125 people signed up to help save the pool until February.
A public meeting was held after it was claimed that people in the area had not been consulted about the proposed closure.
Around 250 people attended with more than half offering to help keep the pool open until the end of February.
Trustees are now trying to set up a plan to secure the long-term future of the pool which has 12 members of staff.
Biomass unit
Llandysul county councillor Peter Evans, one of the six trustees, said: "There was a tremendous spirit of goodwill in the hall which reminded me of the community spirit when the swimming pool was built by the community in the 1970s.
"It was decided that the best idea to keep the pool going was for locals to financially support the pool by direct debit as well as by cheque and cash.
"It was incredible to see the queues of people waiting to pay money to support the pool at the end of the meeting."
Mr Evans added that the trustees wanted to reduce the pool's high heating costs by replacing its oil boiler with a biomass unit.
"To do this we would have to get a freehold lease from Ceredigion council which owns the land on which the swimming pool stands," he said.
The council's plan to cut funding for the swimming pool is part of its aim to save £9.6m during the next financial year which is now on hold until it is discussed by a scrutiny committee on 17 December.