Ceredigion cabinet asked to reconsider savings plan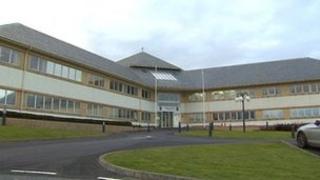 A scrutiny committee in Ceredigion has voted in favour of asking the council's cabinet to reconsider proposed changes and cuts to services.
The committee met on Tuesday to discuss the council's plan to make savings of £8.5m next year.
The proposal was approved by the cabinet last month but was called in by Liberal Democrat members.
The cabinet does not have to follow the committee's recommendation when it meets in the new year.
The 40-point list includes proposals to close libraries in Tregaron and New Quay, closing a day centre in Aberaeron, and removing a £44,000 grant from Llandysul swimming pool.
After a three-and-a-half hour meeting the councillors voted by a majority of one in favour of sending the list back to the cabinet.
It also recommended the proposed cuts are then passed to the thematic scrutiny committees for a more detailed discussion.
Even if these proposed cuts are realised the council will still be over a £1m short of its target for savings next year.
They need to cut £9.6m from the budget in 2014/15 and a total of more than £20m in the three years to 2016/17.
The Welsh government's draft budget in October revealed local government funding would be cut by 5.81% across Wales.