Church and brewer in talks on Aberystwyth housing plan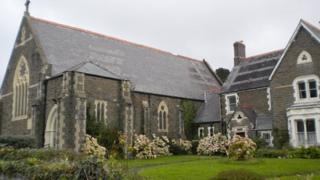 A Catholic diocese could join forces with a Cardiff brewery for a joint housing development in Aberystwyth.
The Bishop of Menevia has unveiled plans for a possible venture with SA Brain, which like the church owns land on the outskirts of town.
The proposal, outlined in a briefing paper to parishioners, also includes building a new church on the site of St Winefride's in the town centre.
But some parishioners want the existing Victorian church to be renovated.
The church at Queen's Road has been closed on safety grounds since November 2012.
At the time, the Bishop of Menevia, the Right Reverend Tom Burns said he wanted to demolish St Winefride's after a report found the church site, which includes a dilapidated parish hall and presbytery, was not fit for purpose.
'More affordable'
The bishop said it would cost more than £2.6m to renovate the building.
However, objectors amongst parishioners disputed this figure, saying a survey they commissioned put the figure at £625,000.
But now the bishop wants to develop land in Penparcau on the outskirts of the seaside town which had originally been earmarked for a new church.
Bishop Burns told parishioners last weekend that diocesan officers and consultants had "explored the possibility" of amalgamating the Brain's brewery land with land owned by the diocese for a joint housing development at Penparcau.
He added that the Penparcau property now "appears much more valuable than it was previously believed to be" which makes the re-development of the Queen's Road site for a church, parish hall and presbytery more affordable.
But one of St Winefride's parishioners, Lucy Huws, said that local worshippers did not want the existing church to be demolished.
They have spent the last 13 months worshipping in several different venues in the town including a primary school.
'Consultations'
"We believe that renovating the church rather than demolishing it and building a new one would be quicker and cheaper in the long run," she said.
"We have asked the bishop to meet us in the new year with costings and a timescale for the proposed project.
"This will also give us time to provide a strong argument to keep the current church."
Bishop Burns said: "Within the next couple of weeks I will provide parishioners with details of the finances involved.
"Then, at the end of January, I will return to Aberystwyth to hold further consultations with parishioners about how they wish to proceed in the light of this new concept."
A spokesman for SA Brain confirmed that the brewer was "in discussions" about the project with the diocese of Menevia.