Powys Council to re-open public toilets until April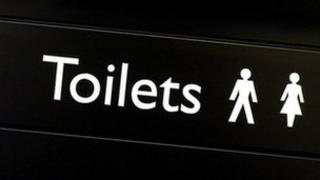 Plans to close public toilets in Powys have been put on hold until the end of the financial year.
The council had been looking to transfer responsibility for 38 facilities to town and community councils.
Some 14 facilities in the county had already closed but will now re-open.
The move will give organisations taking the toilets over more time to come up with plans for managing them from next April.
The council estimated it would save £980,000 a year in running costs by handing the lavatories over to someone else to run.
The decision was part of council plans to save £40m over the next three years.
Cabinet member for operations Geraint Hopkins said: "The cabinet agreed to suspend plans for closing toilets until the end of the financial year.
"The delay will give town and community councils the opportunity to fully consider the budget implications of any transfer and make appropriate provision in their annual budget.
"We believe a combination of public, private and community supported facilities is right for the county but it must be done in a way that allows local community councils and other organisations to properly manage their budgets.
"The delay will give those organisations breathing space and adequate time to fully consider the financial implications of any transfer."
Powys has 67 public toilets. Some are owned and operated by the Welsh government, others operated by community groups including town and community councils, and 38 operated by the county council.
The cabinet had already agreed to maintain council-owned facilities near to trunk roads - which receive financial support from the Welsh government - until April next year.