April Jones's killer Mark Bridger gets date for leave to appeal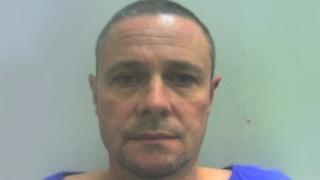 April Jones's killer Mark Bridger will seek leave to appeal against his whole-life sentence at a hearing later this month.
The Court of Appeal confirmed a hearing would take place on 24 January.
Bridger, 47, was convicted of murdering five-year-old April last May and sentenced to life in prison.
The schoolgirl went missing from outside her home in Machynlleth on 1 October 2012. Her body has never been found.
April's parents Paul and Coral Jones told the Sun newspaper in December that they planned to attend the initial hearing.
Bridger's trial heard he killed April in a sexually motivated attack.
Child sex abuse images were found on his laptop, along with images of children from the area.
Bridger had claimed he had run over April in his car and could not remember where he disposed of her body.
The schoolgirl's blood was found in Bridger's cottage at Ceinws, near Machynlleth, along with a number of knives and fragments of bone consistent with a juvenile human skull.
The trial judge described Bridger as a "pathological liar" and a "paedophile" before giving him a whole-life jail term.
April's body has never been found despite the largest police search in British history.