Fund to help victims of Cardigan flooding up and running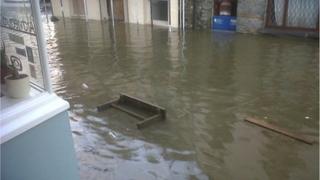 A fund set up to help victims of severe flooding which affected more than 30 properties in a Ceredigion town has raised over £3,000 in four days.
Homes in a number of streets near the River Teifi in Cardigan were flooded after storms battered the community on 3 January.
The fund was initially launched to help a heavily pregnant woman who had lost her bed after the surge of water.
Its organiser said the collection had since "snowballed".
Cardigan Town Council took over responsibility for cash donations to the fund last Friday.
A spokesman said the fund had topped £3,000 by Monday.
The money will be used to help residents replace items destroyed and damaged by the floods.
The fund was started by Philippa Noble who said there had been terrible destruction to properties including severe damage to carpets and furniture.
She added: "My heavily pregnant neighbour had lost her bed because of the floods so I put an appeal on Facebook to try and get a new bed for her as quickly as possible.
"But the appeal has snowballed with local people and businesses providing furniture, toys and bedding for residents.
"I have been overwhelmed by the community spirit people have shown."
Ms Noble said the town council would handle cash donations to the fund which includes collections at local supermarkets.
"This will be of particular help to those residents who have suffered floods in the past because the excess on their insurance is thousands of pounds before they can claim," she added.
Cardigan councillor Catrin Miles said: "We will ringfence funds raised for people affected by the floods.
"A committee will look at how funds will be distributed to those affected in due course."