£1.5m research work on flood-hit Talybont and Borth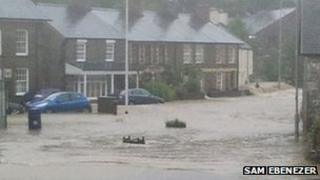 Ceredigion communities affected by heavy floods in 2012 will be part of a £1.5m research project to improve the understanding of water issues.
Villages between Talybont and Borth were among the areas affected by the rising water in June 2012.
These communities along with three others in England will be the focus of case studies which includes flooding.
Aberystwyth University is one of eight UK institutions involved in the project.
Parts of north Ceredigion had 5ft (1.5m) of standing water, with caravan parks, homes and businesses all suffering from the effects of the torrential rain on 8 and 9 June 2012.
Many of those who had to leave their flood-hit houses stayed in temporary accommodation for up to 10 months.
'Public dialogue'
The Hydrocitizenship project aims to help communities, individuals and policy-makers better understand water issues such as flood risk, drought risk, access to water, supply and waste system security in a creative way.
Each case study will be coordinated by a local academic team which will include working with artists, community groups and larger organisations charged with aspects of regeneration and community resilience.
Sara Penrhyn Jones, lecturer at the department of theatre, film and television studies will oversee Aberystwyth University's work.
"The main aim of this work is to share and collaborate expertise in this field in order to better understand and communicate issues around water with communities so that people are more informed of the water issues affecting their area," she said.
"We will do this by using arts-based methods to encourage vitally important public dialogue.
"Our role will be to facilitate ideas that come from the communities in Borth and Talybont."
The other case studies for the three-year project which starts in March 2014 will be in Bristol, Lee Valley (London) and Shipley in Bradford.