Nearly 11,000 sign Cardigan hospital petition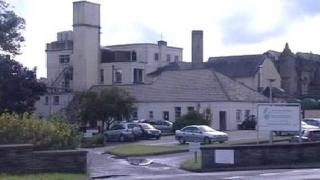 Nearly 11,000 people have signed a petition opposing a health board's plans to close a community hospital to inpatients.
In December Hywel Dda Health Board announced that Cardigan Hospital would only remain open to outpatients.
It revealed hospital inpatient beds would be provided in nursing homes.
This led to opponents launching a petition which will be presented to the National Assembly's petitions committee later this month.
The health board said inpatient beds would be closed at the hospital by the end of February.
The petition, which is now closed, was set up by Cardigan Hospital's League of Friends and Cardigan Town Council.
'Clear timetable'
League of Friends chairman, Eirwyn Harries, said that 10,900 people who live in a 15-mile (24km) radius of Cardigan had signed the petition, which called on Hywel Dda to address three issues.
"We want the health board to overturn their decision to close all inpatient beds at Cardigan hospital," said Mr Harries.
"We also want the board to provide a clear timetable regarding future provision in the Cardigan area as well as proceed with plans to provide a new hospital with beds as soon as possible."
Hywel Dda Health Board has insisted that no beds will be lost to the county, while a new hospital is in the pipeline.
A deal has been struck to open a £20m hospital in the town which includes a GPs surgery.
The proposed hospital is part of the £50m Bath House project in Cardigan.
'Career options'
The first phase of works started in 2009 when 48 flats for people aged over 55 were built.
Health board officers met with Cardigan community representatives to discuss future health service provision in the area earlier this month.
Health board chairman Chris Martin said: "We hope this meeting with representatives from Cardigan's community has assured them of our dedication to investing in a new and modern health care service in Cardigan.
"Our new service model and the new build at the Bath House site at Cardigan is our flagship development and we believe the design of this service has the potential to be the model for future community services.
"We understand there is concern about what services will be in place in the interim as the development is being built and so we have promised to share a description of the services that will be introduced following the closure of inpatient beds in Cardigan Hospital."
He said inpatient beds in Cardigan would return in a "community setting by the end of February".
"A consultation process is in place with affected staff to determine future career options within the proposed model," he added.