Courier rail service call for Shrewsbury to Aberystwyth line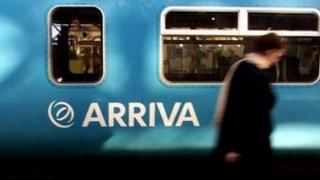 A courier service on a proposed hourly rail service between Shrewsbury and Aberystwyth could boost trade in mid Wales, a local business leader says.
Steve Kaye, chair of Powys Federation of Small Businesses (PFSB), says trains could carry parcels between towns along the Cambrian routes.
In November Transport Minister Edwina Hart created a group to consider improvements to the mid Wales network.
It will submit its report to the minister on 1 February.
Mr Kaye said the courier service would aid businesses once the hourly service was up and running.
"One carriage could be partly used for luggage because students travelling to and from Aberystwyth University at times have to pile their belongings in the doorway," said Mr Kaye.
"This carriage could also be used to carry parcels between companies based along the Cambrian and coastal lines.
"That would mean that for a small fee a company can transfer goods to another branch or another business within the hour, which would be a huge boost for small businesses based near to the railway line."
But Mr Kaye added that the priority at the moment was to secure the hourly service.
"Small businesses will miss out on a number of opportunities if we don't get the hourly service," he said.
"That service would make it easier for people to commute to work which should increase the number of people living in mid Wales which, in turn, would increase business in the area."
'Coming together'
Robert Robinson, joint secretary of the group looking at improvements on the network, said it had asked Arriva Trains to submit costings and a timetable for the proposed hourly route.
He added: "We have also received input from a number of interested parties including businesses and Aberystwyth University, and the jigsaw is coming together which will enable us to finish the report by the end of January."
Mr Robinson said the report would not include any submissions that did not concentrate on the commuter service.
The review group was set up by the minister after a report by the Shrewsbury Aberystwyth Railway Liaison Committee said hourly services through mid Wales could boost employment and tourism.
The report, which included 6,570 responses by residents, students and businesses in mid Wales, also called for more trains on the coast line between Machynlleth and Pwllheli in the summer months.