Powys head teachers' fears over budget cuts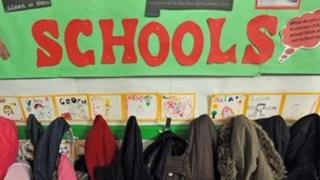 Head teachers in Powys have criticised the proposed transfer of some education costs to school budgets.
Powys council aims to save £1.1m by asking schools to pay for insurance, severance pay and supply teachers' pay.
It also wants to stop transporting children to swimming pools and funding the schools' central library service.
The move will increase workloads and affect children's education, the head teachers claim.
The proposals are included in £20m of budget cuts for the next financial year.
'More pressure'
Ian Roberts, head teacher at Churchstoke Primary School which has 65 pupils, said schools would have to pay for music and theatre provision, as well as maintenance of computers if the proposals are approved in February.
He added: "We are also worried if we have no money to pay for supply teachers, then we will have to combine classes.
"But we cannot do that because the Welsh government says we cannot have class sizes of more than 30 for children up to seven-years-old.
"I am also concerned financial pressures may mean we cannot keep our computers maintained which will affect children's education."
Theatre visit
Yvonne Naylor, head teacher at Ardwyn Primary School and Oldford Primary School in Welshpool, said she shared his concerns.
"The changes would compromise teaching and put more pressure on teachers," she said.
"It boils down to whether we pay for pencils or a theatre visit."
Meanwhile, a public meeting organised by Powys Against Cuts in Education (Pace) called on councillors to reject the savings plan.
'Devastate communities'
Pace spokeswoman Mary Compton called a survey which formed part of the budget consultation flawed.
She added: "The survey amounts to handing the responsibility for the cuts to local people by saying you voted for this.
"We have contacted Powys councillors asking them to reject the proposals that will devastate communities."
A Powys council spokesman said: "These proposals are part of our budget proposals which have been subject to public engagement.
"Feedback from the public engagements will be considered by cabinet on 28 January."
The spokesman added that the cabinet will decide its budget for 2014/15 on 18 February.