Cardigan hospital petition handed to Welsh assembly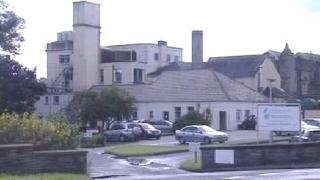 Opponents to plans to close inpatient beds at Cardigan Hospital have submitted a 11,042-name petition to the Welsh assembly.
In December Hywel Dda Health Board announced the community hospital would only treat outpatients from March.
Beds will be provided in nursing homes in future, but the health board said it was not 'deliberately run down services'.
A delegation handed in the petition to the assembly's petition's committee.
Campaigners want the decision overturned and they have also called on the health board to step up its plans for a new health facility in the Cardigan area.
'Immediate action'
Llinos Price' mother, Gwennie Price, 79, was admitted to Cardigan Hospital in November where she was treated for 10 weeks.
"The number of inpatients fell from 12 to four in the first five weeks my mother was a patient at the hospital," said Mrs Price.
"I asked staff who told me there was a directive there were supposed to be no more than four patients at the hospital.
"The feeling I had was that inpatient numbers were being kept down to show the hospital was not being used."
A health board spokesperson said: "The health board was required to take immediate action in November and temporarily closed Cardigan Hospital to new inpatient admissions.
'Best interests'
"There was no directive given to deliberately run down services but there were a number of underlying issues that we needed to act on.
"Our decision was made in the best interests of patients and our staff and in no way impacted on the later decision to re-provide inpatient beds in the community setting.
"It is inappropriate to discuss a patient's care through the media and would ask the family to contact the health board directly if they have any concern or complaint regarding their experience."
The petition was set up by Cardigan Hospital's League of Friends and the town council.
League of Friends chairman Eirwyn Harries said that 11,042 people who live in a 15-mile (24km) radius of Cardigan had signed the petition, which calls on Hywel Dda to address three issues, including overturning its decision to close all inpatient beds.
Cardigan county councillor Catrin Miles said: "We will tell the petitions committee that it is important for the health board to move ahead with its plans for a new hospital in Cardigan with inpatient beds."
A deal has been struck to open a £20m health facility in the town which includes a GPs surgery.
The proposed facility is part of the £50m Bath House project in Cardigan.