Ceredigion coastal path storm damage tops £100,000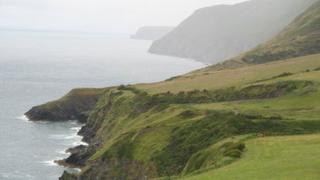 Ceredigion coastal path has suffered more than £100,000 of damage during the winter storms that have battered the coast over the last few weeks.
Two sections of the 60-mile (96.5km) route between Cardigan and Ynyslas are currently closed.
Ceredigion council says repair work will be completed as soon as possible.
The paths are part of the Wales coastal network, bringing an estimated £1.5m to the county's economy.
Ceredigion was one of the counties hardest hit by the heavy rain, strong winds and high tides that battered the Welsh coast between 3 and 6 January.
The council had already revealed that the cost of repairing Aberystwyth's storm-damaged promenade and other locations is more than £1.5m.
In late January, the Welsh government announced that Ceredigion council would receive £560,000 to help pay for the damage.
Council cabinet member, Alun Williams said the two sections of the coastal path currently closed were at Llanon, and between Cwmtydu and Llangrannog, where a landslip occurred prior to the January storms.
"Alternative routes are available at these locations so it continues to provide a continuous route," he added.
Ceredigion coastal path is part of the 870 miles (1,400km) long Wales Coast Path.
A study commissioned by Natural Resources Wales estimated the whole path brought £32m to the Welsh economy in the 12 months up to September 2013.
Mr Williams added: "The Ceredigion coastal path disperses wealth along its whole length and is a very important part of our economy."