Teachers' strike at Ysgol Maesydderwen over pay policy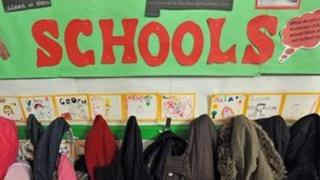 Strike action will close a secondary school in Powys for three days in a row over pay.
Teachers at Ysgol Maesydderwen, Ystradgynlais, will walk out on Tuesday claiming school governors will no longer promise to match a teacher's existing pay when they join the school.
Unions said they had been left with "no option" but to strike.
But the chair of governors said it was a major disruption at a "crucial time" for some pupils taking exams.
The school said its pay policy had been devised by the south west and mid Wales regional consortium, known as Education Regional Working (ERW), and was not unique to Ysgol Maesydderwen.
'Olive branch'
NUT Cymru secretary David Evans said: "We have been left with no option other than to take this strike action at Maesydderwen.
"We have already withdrawn three days of planned action to allow time for the governing body to adopt a position that would have allowed the action to be withdrawn.
"We have offered every olive branch to the governing body requesting that they suspend the implementation of the policy for further talks both at school level and consortia level to take place."
NASUWT Wales organiser Rex Phillips said the unions were concerned that school governors and Powys council were implementing policies on teachers' pay introduced by the UK government.
He said: "Parents are rightly concerned about this action, but we ask them to lobby the governing body and support the teachers in their stand."
'Extremely disappointed'
The school will be closed to all pupils apart from those sitting exams.
In a joint statement the school's chair of governors Hugh Pattrick and head teacher Sally Speedy said: "Naturally, we are extremely disappointed that our school will be affected by this strike action, which will be a major disruption to the education of our pupils and at a crucial time for our learners who will be sitting exams shortly.
"Ysgol Maesydderwen is not the only school to adopt this pay policy, which has been devised at a regional level by ERW, the school improvement partnership for mid and west Wales. However, we are still the only school being singled out for strike action.
"We will be writing to parents and publishing information on our website about the strike action, which not only impacts on our pupils but also parents."