Aberystwyth nurse 'photographed in bed' with respite care patient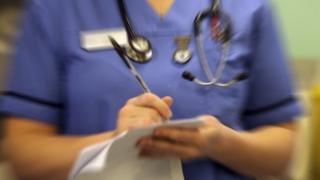 An ex-care home manager has been struck off the nursing register after pictures were found of her in bed with a man with severe learning disabilities.
Sarah-Anne Baldwin, who worked at Bryn Siriol Respite Unit in Penparcau, Aberystwyth, claimed she had been playing hide and seek.
A Nursing and Midwifery Council (NMC) conduct and competence hearing heard the patient was aged around 30.
But Mrs Baldwin strongly denied any sexual activity with the man.
The NMC hearing, held in Cardiff between 17 and 19 March, heard the photographs were discovered on a staff computer at the unit in 2010.
They showed Mrs Baldwin, who was the acting manager, hiding under the man's duvet while he was in bed. The NMC panel said Mrs Baldwin had explained that this was a game of hide and seek.
Several of the photographs also showed Mrs Baldwin and the man, referred to during the hearing as service user X, hugging and holding hands.
In other pictures, it appeared that service user X was trying to kiss Mrs Baldwin on the cheek, the hearing heard.
Cheryl Beach, who chaired the NMC hearing, said: "The panel concluded that many of the photographs displayed an inappropriate physical intimacy between Mrs Baldwin and service user X.
"This included hugging, holding hands and being physically close on the same bed together."
Ms Beach added: "The panel considered that Mrs Baldwin's participation in inappropriate physical intimacy with service user X had the potential to be confusing for him in that he may have interpreted Mrs Baldwin's behaviour as being sexualised, regardless of whether or not he was cognisant of what that meant.
'Sexual activity'
"The panel concluded service user X may have been confused by her behaviour and it may have led him to form inappropriate expectations of how he should behave not only with Mrs Baldwin, but also other staff or any other people, including other service users, with whom he came into contact."
In written submissions, Mrs Baldwin said: "I strongly refute the suggestion of the allegation of sexual activity and impeding choice of a vulnerable adult."
She said the "mere suggestion of sexual activity or potential sexual arousal" was abhorrent and was "wholly untrue, and I believe suggested to cause maximum damage to my reputation and career".
Mrs Baldwin resigned from her position at the respite unit in October 2010 before the photographs were found.
She was accused of failing to follow care plans and/or risk assessments, failing to actively promote clear sexual boundaries at all times and allowed staff to breach the behavioural risk assessment and management plan.
She was also accused of failing to seek medical advice after another patient refused medication on four dates in 2010.
The panel concluded that Mrs Baldwin's actions amounted to "misconduct of a serious nature" and "had brought the nursing profession into disrepute".
The panel issued Mrs Baldwin with a striking-off order and an 18-month interim suspension order to cover any appeal.
Mrs Baldwin qualified as a registered learning disabilities nurse in 2008 and began working at Byrn Siriol in October of that year.
Mencap, which owns the respite unit, welcomed the judgement.
A spokesperson said: "We have a zero-tolerance approach to any misconduct. People with a learning disability should be supported to live the lives they want to lead. The (NMC) order reflects society's disgust at the activities of those who seek to exploit people."