Aberystwyth's Royal Commission sells off book stock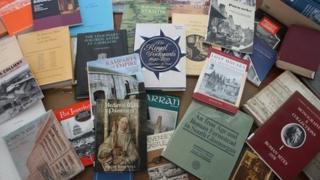 More than 1,000 titles are being sold in a sale of surplus and duplicate books by the Royal Commission on the Ancient and Historical Monuments of Wales (RCAHMW).
This is the first time the Aberystwyth-based organisation has sold its stock in its 106-year history.
It includes an almost complete 140-volume set of the journal Archaeologia Cambrensis.
There will also be a selection of Ordnance Survey maps on offer.
Scott Lloyd, the RCAHMW's publications officer, said some of the collection would be sold by sealed bid.
'Excellent opportunity'
These include 140 volumes of Archaeologia Cambrensis, an archaeological and historical scholarly journal that has been published annually since 1846.
"The money from this sale will be used to buy more books for the library.
"This is an excellent opportunity to acquire hard to find and often out-of-print historical and archaeological material."
Formed in 1908, the RCAHMW maintains and curates the National Monuments Record of Wales and holds the nation's collection of information about its archaeological, architectural and historical heritage.
In January, Heritage Minister John Griffiths, announced it would will not merge with the Welsh government's conservation body Cadw.
Mr Griffiths's predecessor, Huw Lewis, had wanted to unify the two organisations.
The RCAHMW reference library is open to the public from Monday to Friday between 09:30 BST and 16:30 BST at its base in Plascrug, Aberystwyth.