Farmbox Meats: Dafydd Raw-Rees and Colin Patterson cases transferred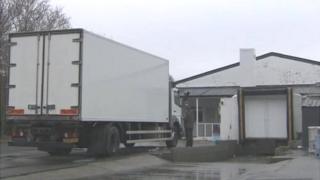 The case against two meat processing bosses and two staff facing charges over the traceability of meat will be heard by a crown court.
Dafydd Raw-Rees, the owner of Farmbox Meats in Llandre, near Aberystwyth, appeared with employee Colin Patterson before Westminster Magistrates' Court.
They face 19 charges under the Food Safety Act.
Slaughterhouse owner Peter Boddy, 64, of West Yorkshire, and manager David Moss, 53, were also bailed.
None of the four entered a plea as they appeared in pairs before magistrates in London.
They will all now appear at Southwark Crown Court on 28 April.
Mr Raw-Rees, 66, the owner of Farmbox Meats in Llandre, near Aberystwyth, and Mr Patterson also face one offence of failing to comply with traceability requirements of meat sold by the firm.
Allegations centre on claims they mislabelled goat meat as either lamb or mutton for the purposes of sale.
It was indicated that both would plead not guilty. Farmbox Meats is said to be in administration.
The court heard Mr Raw-Rees and Mr Patterson were initially arrested on suspicion of fraud in February last year at the height of the horsemeat scandal and following a raid by Food Standards Agency officials investigating claims of horsemeat being sold on as beef.
No charges have been brought against either man in relation to that investigation.
Snap inspections
The same hearing on Monday heard Mr Boddy, 64, the owner of a slaughterhouse in Todmorden, and Mr Moss were charged following snap inspections by Food Standards Agency vets in February last year.
Both are accused of breaking regulations relating to the traceability of horsemeat.
Mr Moss also faces an additional count of falsifying an invoice of the sale of horse meat.
It was indicated that Mr Boddy would plead not guilty. There was no indication from Mr Moss.
Magistrates heard that Mr Boddy's abattoir sold meat to Farmbox Meats.
None of the men is accused of passing off horse meat off as another product.
Adam Payter, prosecuting, said: "It cannot be known where horse meat came from before it entered the premises and where it was sold on to."
"It is not claimed that the meat was sold disguised as anything else."
Unconditional bail was extended for all four men.