Saron monastery's hospice project gets £500,000 boost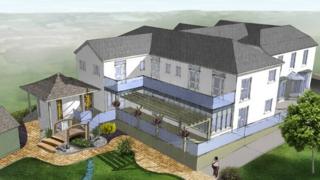 A charity's plans to build a £2m hospice has moved a step closer after getting a £500,000 lottery boost.
The Skanda Vale Hospice project at Saron, near Llandysul will also provide five new specialist nursing posts.
The scheme at the multi-faith ashram aims to serve people living in Ceredigion, Carmarthenshire, and Pembrokeshire.
The project was granted planning permission in September 2013.
The Big Lottery Fund cash will allow the hospice to develop new inpatient respite and end-of-life care services at their existing day care centre.
'Long distances'
Monks and nuns at the ashram have been fundraising for 20 years toward the project, which is expected to open in 2015.
Dr. Pat Purcell, a Palliative Care Consultant and voluntary clinical advisor to the project, said: "The new hospice unit will provide respite and end-of-life services that are not currently available in the area."
The monastery began in 1973 and attracts about 90,000 visitors a year.