Dihewyd school lifeline after Trefilan pupils transfer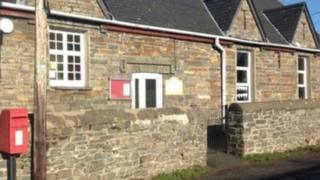 A Ceredigion primary school threatened with closure has been thrown a lifeline after parents of 13 children from another school facing the axe decided to move their children there.
The pupils at Trefilan primary school have been transferred six miles (10km) away to Dihewyd school.
The decision came after representatives of both schools met with Ceredigion council bosses.
Trefilan school will stay open with three pupils until it closes in July.
The council's cabinet had backed officers' recommendations to close Dihewyd and Trefilan schools earlier this month.
A final decision on the future of the schools by all 42 members of the council had been due in June.
'Successful future'
But Dihewyd school, which now has 34 pupils on its register, looks to have escaped the axe whilst Trefilan school will now close.
Alix Arndt, head of Trefilan School Action Group, which had opposed the closure, said: "The majority of parents decided it was essential for the children to stay together and secure primary school education in the local area.
"Parents are very happy that this arrangement will support another small school and hopefully give everybody a successful future."
Hywel Glyn Ifans, a campaigner for Dihewyd primary school, said: "If this is a victory for Dihewyd school it is a shallow victory because of the closure of Trefilan school.
"We hope that this decision will now ensure the school is secure for the next few years."
The cabinet will formally discuss the future of Dihewyd and Trefilan schools in June.
Remains open
A Ceredigion council spokesman said: "If, as seems likely, the pupils who will have transferred from Trefilan are representative across the primary school age range, this would ensure that pupil numbers at Dihewyd have increased sufficiently for the school to remain above the threshold figure for the foreseeable future.
"If this is the case, the education department will be recommending to cabinet that Ysgol Dihewyd remains open.
"If any Ysgol Trefilan pupils choose not to transfer to Dihewyd, Trefilan will remain open for those pupils until the end of the summer term."
The full council will also decide a plan for an expanded Tregaron secondary school providing education from the ages of three to 16 in June.
That would mean the closure of 30-pupil Llanddewi Brefi school.
Llanafan primary school, with 24 pupils on its register, is also facing closure.
The council is restructuring primary education, saying there are 1,000 fewer children in Ceredigion than a decade ago.