Aberystwyth new bandstand project consultation launch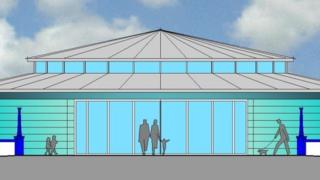 A new £1m project to replace Aberystwyth's bandstand has been put forward for public consultation by Ceredigion council.
In March the council abandoned its original design because of "significant additional costs".
More than 2,000 people had signed an online petition opposing the design and the demolition of the current structure on the prom.
It has been a prominent landmark on the town's seafront since 1935.
Planners had given the original scheme the go-ahead in February after initially putting it on hold in the wake of storms that ravaged the town's promenade in January.
The consultation for the new £965,965 project will be held between 19 and 30 May with response forms available at the town's Tourist Information Centre as well as online.
Sea defence
The consultation presents a design for the building that includes:
Reinforcement and extension of the base to include a walkway around the building offering improved sea defence
Keeping the perimeter wall of the original Bandstand as a feature enhanced by lighting
A glass front that allows the building to look more inviting
Internal space that can be used for events or performances
A Ceredigion council spokesman said: "There are some options for the internal design of the new bandstand on which we would like to hear people's opinions."
These options are using the bandstand for commercial use, providing a mix of commercial and community space or using the bandstand as a space that can be used for different purposes as is the present situation
The Aberystwyth Regeneration Area Board will consider the new proposal at its meeting on 22 May.
If approved by the board the proposal will be sent to the Welsh government for final approval and granting of funds.
The consultation responses will be included in a planning application if the proposal is backed by the board.
The Welsh government named Aberystwyth as a regeneration area in October 2009 and it was awarded £10.3m in March 2010.
Projects which have already benefited from the fund include a circular road linking Aberystwyth University and the National Library of Wales, and a bus service which opened in 2012.