Felinfach and Bow Street social housing land deal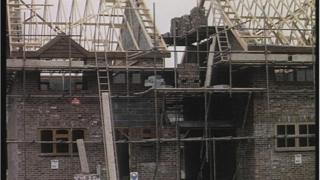 Land owned by Ceredigion council will be sold to a housing association for £455,000 less than its value to pave the way for more affordable homes.
Ceredigion council's cabinet has decided to sell two lots of land to housing association Cantref so it can build 50 rental properties on two sites.
The land had been valued at £915,000 but will now be sold for £460,000.
Cantref said 1,800 people were waiting for affordable housing in Ceredigion.
The decision will now be used by the council as a benchmark for the future sale of land for affordable housing in the county.
A report to the cabinet said Cantref claimed the land appraisal by the District Valuer was "too high" and the projects "could not be delivered if the council asked for the full price".
'Housing need'
The report added that low cost rented accommodation was "much needed" in Ceredigion.
The council will now sell a 1.7 acre site valued at £350,000 at Bro Henllys, Felinfach, in the Aeron Valley for £210,000 so the housing association can build 23 units consisting of flats, two and three-bed houses.
The 2.2 acre site at Rhydypennau, Bow Street, valued at £565,000, will be sold for £250,000 so that Cantref can build 27 rental units comprising flats, two, three and four-bed houses.
Lynne Sacale, Cantref's chief executive, said: "At present there are currently over 1,800 live applications for affordable housing in Ceredigion which these two schemes, whilst they won't fulfil the need, will go some way towards it.
"Whilst the housing register alone in the Aeron Valley shows a demand of 120 applications for various size houses.
"The local housing needs survey identified a further demand from a further 74 local households who are currently not registered on the housing register but are in local housing need.
"Rhydypennau is an incredibly high demand area with currently 475 applications for various size affordable homes.
"We will now work closely with the community councils over the next 15 months to ensure that local people are able to take advantage of these new homes."