'Hay level' revision tips for pupils at literary festival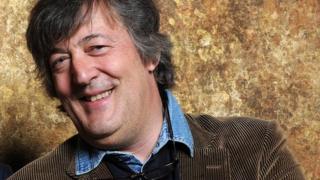 Students can get revision tips from some of likes of actor Stephen Fry and scientist Richard Dawkins through a series of short films made at Hay Festival.
The mini-lectures will cover the A-Level syllabus in everything from English and history, to maths and economics.
The first 45 films were shot at the weekend and more will be filmed during the festival.
They will be posted online.
Others giving mini-lectures include historian Simon Schama, poet and playwright Simon Armitage and history professor and economist Nicholas Stern.
Peter Florence, director of Hay Festival, praised the "fabulous academics" for taking part.
"I watched them filming yesterday. These are great teachers, and their generosity and clarity are extraordinary," he said.
Universities minister David Willetts praised the project saying the "great teachers" would tackle difficult subjects and inspire pupils.
The project is being run in partnership with engineering firm Tata and has been designed in collaboration with Hereford Sixth Form College and the British Council.
The 27th festival runs until 1 June in the Powys border town of Hay-on-Wye.
Several radio and television shows will be live from the festival, with a full programme of events broadcast over BBC Radios 2, 3, 4, 6 Music as well as BBC Radio Wales and Radio Cymru.