Review of leisure centres in Ceredigion launched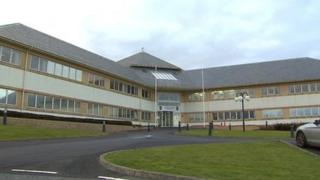 The future of council-run leisure services in Ceredigion is in doubt after a review was ordered.
Six council leisure centres could close or be handed over to community groups as the authority looks to save money.
A group of cabinet members and officers will examine the options and will report back to the council.
The authority is looking to save nearly £21m over the next three years and it increased council tax by 5% in April.
A task and finish group of council officers and cabinet members Hag Harris, Rhodri Evans and Gareth Lloyd are looking at a number of options for the county's leisure facilities, which also include three swimming pools.
Mr Harris said the group would report back to the cabinet with its recommendations.
"Everything the council does regarding leisure is being looked at," he added.
"It does not mean leisure centres are going to close but that cannot be ruled out at the moment.
"The facilities could be passed to a community trust or a charitable organisation. We need to consider all the options.
"We found £10m of savings in last year's budget and we have to find another £10m in the next final financial year and we have to assess what we can maintain and look at different ways of maintaining services."