Myfanwy Alexander urged to resign after using n-word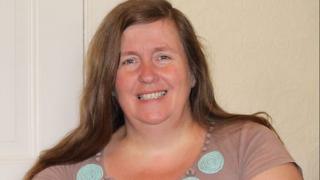 Calls have been made for Powys council's deputy leader to resign after she used a racial slur during a council meeting.
Myfanwy Alexander was "severely reprimanded" for using the n-word in a debate about cross-border health services.
She later apologised for using the term, saying it was a "careless word".
Public sector union Unison said she had attacked multicultural society and called on her to quit.
Ms Alexander was speaking about the treatment of some patients when they travel over the border to Shropshire for treatment.
The Shropshire Star quoted her as saying: "We are treated like ******* over the border."
Ms Alexander told BBC Wales she had been quoting from Maya Angelou's I Know Why The Caged Bird Sings where a black character is refused dental treatment.
'Deplorable language'
She said she was using the term to fight prejudice and would not resign because she was campaigning on a very important issue.
But Unison's regional organiser Andrew Woodman said her use of the term must be seen as an attack on multicultural society and the people of Powys.
"There are black people living and working in Powys. How should they feel when their elected representative uses such deplorable language?" he said.
"Ms. Alexander should be a beacon of equality and recognise that use of this kind of language creates division and hatred in our communities and in this way will make life worse for everyone."
"I have another quote for Ms Alexander from the Canadian author Pierre Burton: "Racism is a refuge for the ignorant. It seeks to divide and to destroy. It is the enemy of freedom, and deserves to be met head-on and stamped out," he added.
"There is no coming back from this, Ms Alexander should resign and hang her head in shame."
The matter has been referred to the Public Services Ombudsman and Ms Alexander has been sent for equalities training.