Uni staff in four-day strike over pensions row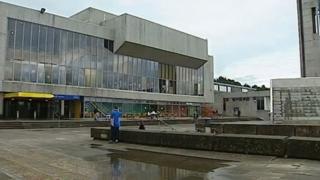 Staff at Aberystwyth University will take part in a four-day strike in a row over pensions days before the new term starts, it has been confirmed.
The walk out is from 19 to 22 September when students will begin arriving to start lectures on 29 September.
Union bosses are concerned a new pensions scheme would lead to low paid workers being significantly worse off.
Aberystwyth University said the strike was a potential threat to the university's future sustainability.
Members of the unions Unite, Unison, the University and College Union (UCU) and Prospect will take part in the action, which includes a march and rally on 20 September.
Simon Dunn, Unison regional organiser, said the unions had thought long and hard before deciding to take strike action at the beginning of the new term.
'Hit core business'
"Our members want to see the university thrive, to be a fantastic place to study, but we cannot accept that this should be done on the back of massive cuts to our members pensions," he said.
"All we want is a fair system, where half of the staff aren't treated like second class citizens."
The university said the institution respected individuals' right to strike, but targeting the weekend when it welcomes its newest students went against the hard work done to attract students to Aberystwyth.
A spokeswoman said the action attempted to hit the core business of the university, adding: "This is a potential threat to the university's future sustainability, and aims to create concern for new students, who may be away from home for the fist time, and their families."
The action comes after the institution decided to close the Aberystwyth University Pension Scheme in June.
The spokeswoman added that the university would not reverse the move and industrial action would have no impact on its decision over the pension scheme.